03 November 2015
Travelling to Slovakia with own bear
Novgorod theatre «Mali» will present performance «Little Feelings» in programm of  V International culture festival in Slovakia 5-7 November, 2015. This poetical and fragile show about one day of children's life with company of teddy-bear already visited South Korea, Austria, Switzerland, was presented in National Award «Golden Mask» (Moscow) and National Award of children performances «Arlekin» (St.Petersburg). It will be first travel to Slovakia for theatre «Mali».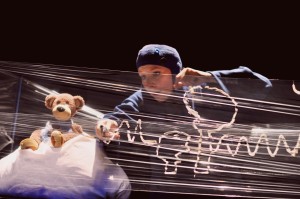 08 October 2015
Martin Nachbar in Velikiy Novgorod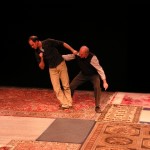 Novgorod theatre for children and youth «Mali», International Theatre Kingfestival and Goethe Institut St.Petersburg presents lecture about contemporary dance by Martin Nachbar for students of Yaroslav-the-Wise Novgorod State University at 29 October, 14.00. Martin Nachbar has studied in Amsterdam, New York and Brussels. Since 2000, he has created over 20 pieces, written several publications about his work and taught at institutions including the School for New Dance Development (SNDO), the Inter-University Centre for Dance Berlin (HZT), the Salzburg Experimental Academy of Dance (SEAD), P.A.R.T.S. and the LABAN Dance Centre.
Martin Nachbar likes working together with other artists and always sees his practices in connection with his colleagues. These include dramaturge Jeroen Peeters, musician Boris Hauf, costume designer Marion Montel, light designers Wassan Ali and Bruno Pocheron and dancer-choreographers Ehud Darash, Noha Ramadan and Jochen Roller.
30 October, 19.00 Martin Nachbar will present dance performance «REPEATER. A DANCE PERFORMANCE WITH FATHER» on stage of Novgorod theatre «Mali».
03 October 2015
Lovecraft's night show
Howard Phillips Lovecraft, American writer is probably best known as a writer of weird fiction and horrors. His short novel "The Ousider" was written in  1921 and became a one of legendary story in world of "Horror Literature". In this work, a mysterious man who has been living alone in a castle for as long as he can remember decides to break free in search of human contact and light. Theatre invites to the world of fear and chimeras, which waits you in common places – from foyer till theatre hall at night time — 21.00 in 23 October, 21 November, 3,11,12 December.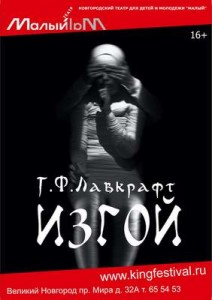 10 September 2015
New season #26
Novgorod theatre "Mali" starting a new season and a new theatre year with performance "Ma/Rilke" for adult and first night show "Who said meow" for children in September.  Also we are very happy to present you new version of our official site. In September 2015 our programmers starting first selection of performances to next edition of International theatre Kingfestival 2017 and first rehearsals of new performances "The Outsider" by story of Hovard Lovecraft and "The curious incident of the dog in the night-time" by play Simon Stephens by novel of Mark Haddon.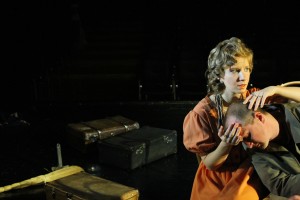 31 August 2015
Continue project of Latvian Line
Novgorod theatre «Mali» glad to continue cooperation with masters of Latvian Puppets theatre from Riga and presents result of culture project «Latvian Line». First seeds of this project were performances for little children in different techniqs of puppet's theatre from 2010 year and in 2015 we'll happy to present new show for early kids by famouse book of Vladimir Suteev «WHO SAID MEOW». This musical and colorful performance directing by Latvian director Vija Bluzma and artist Anita Znutina-Seve. These kind and educational stories well-known for every generation —  and in puppet's fairy tale Rabbit and Ant will help each other to save in rain and wise Bear will help to friends find best solution to divide an apple. And of course curious puppy will try to find who said meow tonight?