01 October 2021
Online programm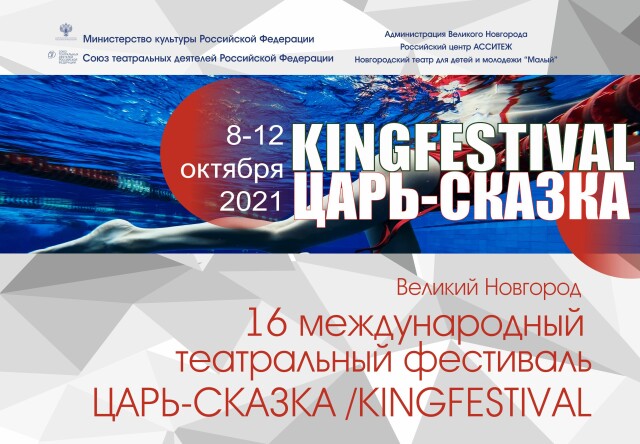 Novgorod theatre "Mali" is happy to present to our theatre friends and colleagues next edition of 16th International Theater Kingfestival. The festival takes place in Veliky Novgorod October 8-12, 2021. Festival organized by Ministry of culture of the Russian Federation, Theatre Union of the Russian Federation, Administration of Velikiy Novgorod, Novgorod Theater for children and youth "Mali", Russian center ASSITEJ.
In 2021, Festival will be in hybrid format because of the world pandemic situation. Russian theatres will perform shows at venues of Velikiy Novgorod. But we decide that online program of performances from abroad will be open and free for all public – and you could recommend it to your friends, schools, children, and families to visit our digital program.
How it works: link to festival show will be open from time in schedule till midnight, you could see the show at any time. For your comfortable work we send you a direct link. Most of the shows non-verbal (beside "The Princess and the Pea" in Russian but we hope that you know the story and "Frankenstein" in German with Russian subtitles).
Time zone: All time for performances is Moscow time, please, check your time zone.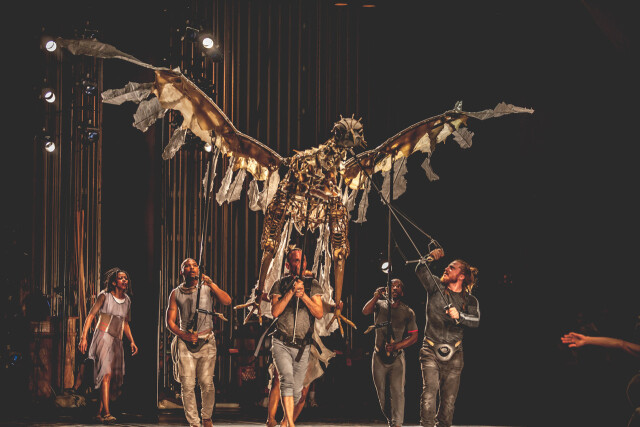 8 October, Friday 12.00-00.00 online
Janni Young Production, South Africa
by Janny Young
«THE FIREBIRD» (12+) (visual theatre, contemporary dance, puppetry)
LINK     https://eng.kingfestival.ru/king/spectacles/the-firebird.html
9 October, Saturday, 11.00-00.00  online
Latvian Puppets theatre, Riga, Latvia
Hans Christian Andersen, stage version by Vija Bluzma
"THE PRINCESS AND THE PEA" (4+)  puppetry
LINK     https://eng.kingfestival.ru/king/spectacles/the-princess-and-the-pea.html
9 October, Saturday, 16.00-00.00  online
Bielfeld City Theatre, Germany
Mary W. Shelley, dramaturgy Elisa Hempel
"FRANKESTEIN" (16+)  on German with Russian subtitles
LINK     https://eng.kingfestival.ru/king/spectacles/9-5.html
10 October, Sunday 10.00-00.00  online
Papermoon Puppet Theatre, Indonesia
Maria Tri Sulistyani & Lunang Pramusesa
"A BUCKET OF BEETLES" (4+) puppetry
LINK    https://eng.kingfestival.ru/king/spectacles/a-bucket-of-beetles.html
With support INSTITUTE FRANCE
10 October, Sunday 17.00-00.00  online
Compagnie Arcosm, France
Thomas Guerry, Camille Rocailleux
"BOUNCE!"  (7+)  (contemporary dance, music)
LINK    https://eng.kingfestival.ru/king/spectacles/bounce.html
11 October, Monday 11.00-00.00  online
China National Theatre for Children, Bejing
Xing Mu
"THE THREE MONKS" (3+) (non verbal)
LINK    https://eng.kingfestival.ru/king/spectacles/9-6.html
With support Pro Helvetia – Swiss Arts Council
11 October, Monday 15.00-00.00  online
Cie Philippe Saire, Switzerland
«HOCUS POCUS» (7+) (contemporary dance, music)
LINK    https://eng.kingfestival.ru/king/spectacles/hocus-pocus.html
«DAY OF CANADA» supported by Embassy of Canada
12 October, Tuesday 13.00-00.00  online
WEEFESTIVAL, Canada
Lynda Hill and Thomas Morgan Jones
"OLD MAN AND THE RIVER"(3+) (puppetry)
LINK    https://eng.kingfestival.ru/king/spectacles/old-man-and-the-river.html
«DAY OF CANADA» supported by Embassy of Canada
12 October, Tuesday 18.00-00.00  online
La Fille Du Laitier, Canada
Marie-Hélène Bélanger-Dumas & Jon Lachlan Stewart
 "MACBETH MUET" (16+) (object theatre, pantomime)
LINK    https://eng.kingfestival.ru/king/spectacles/macbeth-muet.html